From Our Weekend
This past weekend was really really amazing. I hate to admit this, but usually the stars don't all align properly for the time that it's just us as a family for 2 days. Someone is cranky (often me) or tired or unhappy about the choice of activities. But this past weekend, I wasn't in a grumpy mood and I was patient enough to take on some stuff I wouldn't normally so we just went with it and really enjoyed ourselves. Often, I think of something that would be really fun for the kids but something like how far a drive it is or how much it costs or how much effort goes into it and I would rather do something else. I don't always say no, but sometimes it's easier just to tell the kids to go play outside right here at home. We did lots of that this weekend, too, but it was nice to mix in a few fun out of the ordinary things to make it special and memorable.
Saturday, early morning, I took the kids to a local park where they could run and play. I started a new book (this is where I admit that I'm reading 50 Shades of Grey and can't put it down) and I laid in the grass reading while the kids climbed like monkeys. Then we walked and walked and walked together and it was so nice. They laughed, raced ahead, showed me things, showed each other things, smiled for the camera. It was so sweet. We got some necessary things out of the way like getting some new summer clothes and a haircut for the little guy then grabbed some lunch and were going to head home, but I decided it would be nice to plant some flowers out front of our house. The back of our house is decent right now
But our house from the front is looking sad these days. So, I took both kids to the garden center at Home Depot and we all picked a few things and headed home. They happily helped me plant, and again, it was nice that everyone seemed to be patient and happy for the day. Perhaps they were feeding off of me…hmmmm…something to consider.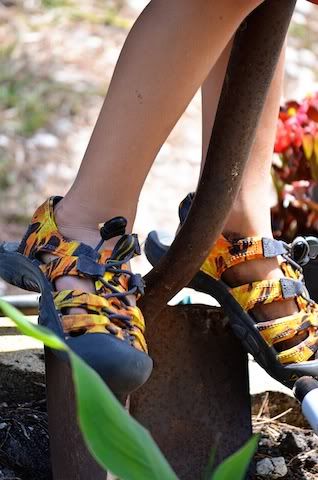 After all of that, we were all sweaty and needed to cool off so the kids asked if we could go to the beach. Usually, if I am in the mood for an outing, someone else is not, but we all were so we went the 4 of us and it was so nice. The kids played on daddy's surf board, I played in the waves with my kiddos, and relaxed. So good.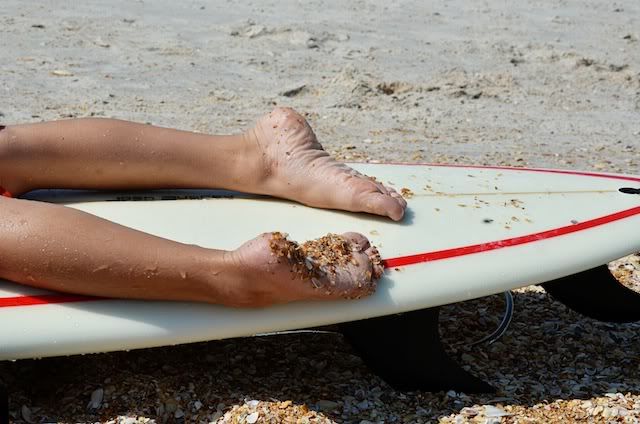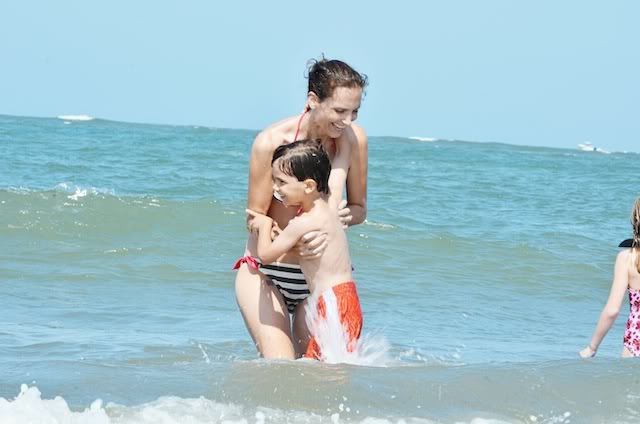 What is it about that ocean? I can't get enough of it. I used to really dislike the salt water and being hit by waves. The joy the kids have there helps me enjoy it more now, too. But I also only learned the past year or so how good it feels to lay on my back in the ocean and look up at the sky.
The rest of our weekend fun was spent at home, enjoying the space we've created here.
climbing the mulberry tree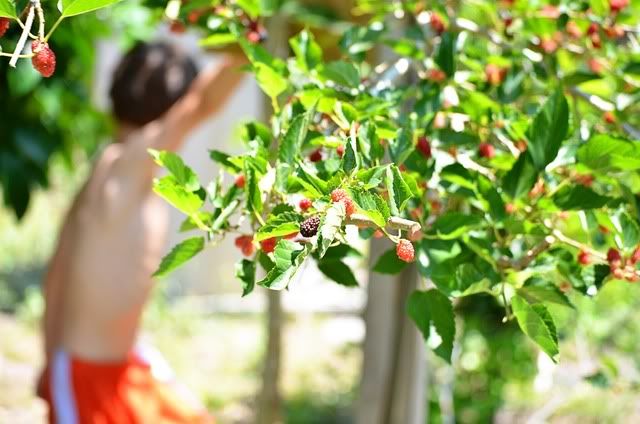 goofing around with chickens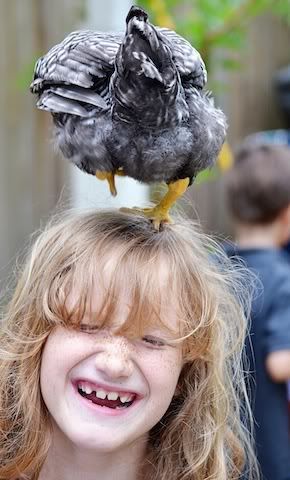 and enjoying the playground slide with water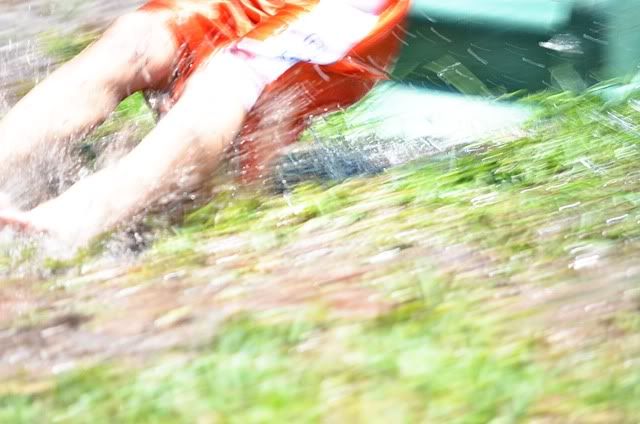 It wasn't all rainbows and unicorns. There was whining, arguing, complaining about what we weren't doing while doing something super fun. There were moments that I was frustrated. But any weekend that I can blow up lots of water balloons and tie them all without getting cranky *and* do all kinds of other cool things with my kids, too, is one I have to celebrate. I hope your weekend was beautiful, too.
xo
Emily