A New Playroom
Last week, hubby and I were on our now weekly Friday morning date jogging over a bridge, through our quaint downtown, along a sidewalk lining the water's edge. Feeling quite happy with the moment, we talked about being here for almost 5 years and how completely perfect a Friday morning was in this place, enjoying the sunshine and a little exercise together. While on that run together, and later when we stopped at our favorite local coffee shop for a little refueling, we discussed an idea I had for our home – to turn our current 4th bedroom and guest room into a playroom for our kids. It bothered me that a space that was used for sleeping guests about 5 nights/year meant that we had a space in our home that wasn't being used to it's full potential 360 days each year.
It seemed a little silly.
I suggested we move the queen bed from the guest room into our daughter's room. Guests could use her room when they come and she can sleep in a another space that we create sometime. There are a lot of options for her when the time comes for that – and she's still little enough that crashing in our bed for a weekend isn't a big deal if we don't have that sorted out by then. I wanted the space to be much more useful for our daily life.
My son's room – small!- had his bed, his train table and a play kitchen in it. This left little room for anything else and barely any room to even move/play/walk through it. His toys weren't getting used and his space could be much better served with just a bed and dresser and space to move.
Before we even drove home that day from our date, we swung into Home Depot and got paint, trim, and some shelving brackets. I was convinced we could do this without anything else. I didn't want this project to cost a lot but I wanted big impact. A space my kids would feel at home being creative and playing. I was sure I could pull elements from the rest of our house to cover the rest of the space.
We started Saturday morning by emptying the room of the queen bed and the small desk that was in there with my computer on it. The bed went to my daughter's room, the desk moved to the kitchen and the rug moved to the living room. We were left with a blank slate: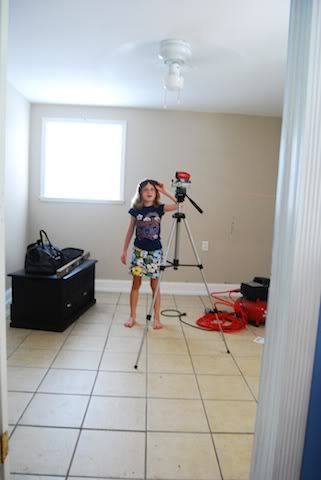 My handy dandy helpers got to work: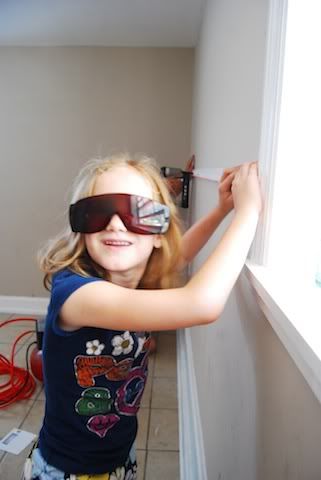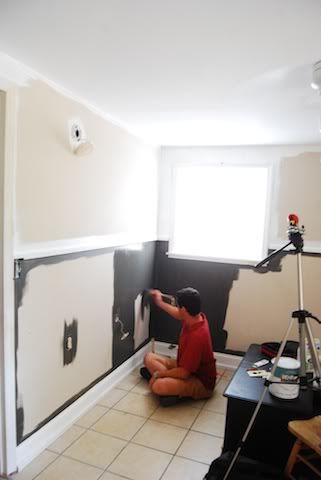 And now my kids have this to call a playroom:
We bought paint and some shelving for the closet (which isn't ready for it's closeup). The paint is the tintable chalkboard paint in charcoal gray. The window and door trim and chairs are Behr Intense Teal and the table is Behr Daredevil. I chose these on a whim in the paint department – I figured we'd make it work, and I think we did. It's so cheerful and playful and perfect for a playroom for both my girl and my boy.
Everything else came from around the house. The table and chairs were curbside freebies painted for just this room. They were the standard oak table and chairs that you can find all over Craigslist. The toys were in bedrooms.
There are some finishing touches – like touch up to the paint job and choosing what artwork to put on the walls, but it's pretty good now, I think.
I am glad they have their own space to play and create now. For not a whole lot of dough.
I'm adding this to the Paint Projects Linky Party at Centsational Girl. Check it out for all kinds of awesome painting projects!!
Also, adding to TipJunkie!