Displaying Children's Artwork and Photos
Last week, when I showed you the adjustment I made to the living room, I got some questions about where the armoire came from. It had been in my son's room. A while back, we finally got around to doing a complete overhaul in his room, which can be found here little boy's bedroom makeover.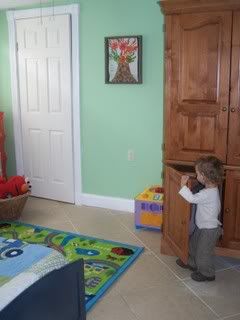 When we moved the armoire out of there, it left a whole corner of his room empty. I didn't want to go out shopping to fill the space, so we used what we had to make him a shelf where we can display favorite books, line up trains, and display photos and artwork.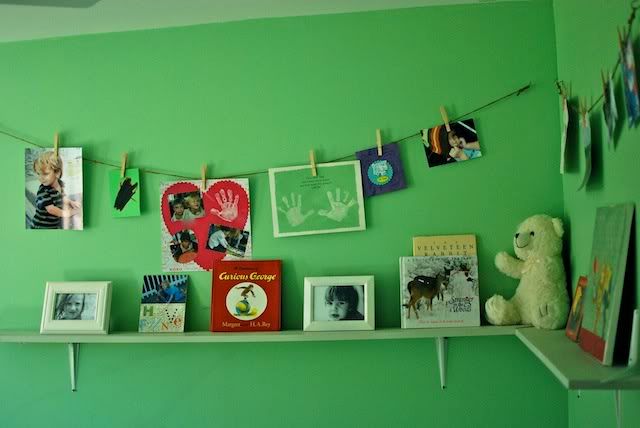 His room is not this green, who knows what I did to mess up the lighting in that photo, but it's not hard for me to mess up! Hubby painted the wood and installed the shelf. I bossed him around about what height it should be and he got cranky. Then when it was all over he admitted it was nice where I wanted it. I win!
In case anyone is curious about some of the things on the shelf, on the right hand side, there is the easy DIY wall art for kids that I made and posted at Living Locurto earlier this year. Over on the left is a leaning photo tile.
I used some of my favorite frugal stuff – jute twine and clothespins – to make another level for displaying photos and his artwork that he brings home from school. I like how non-commital a shelf and some twine and clothespins are. I can change out the artwork (we get so much new art from school every week, I sometimes feel like I am drowning in it) and photos and move them around all I want without harming any walls or frames in the process, like I did during the family photo wall project.
Remember the advent calendar I made in December? When I was packing up everything after the holidays, I decided to leave it up and use it as a message board. I had just decluttered it the day before I decided to take a pic and share it here. Some friends have come over and thought it was neat, so I figured it was worth sharing. It is often full of stuff like appointment cards and the occasional note, coupon, or whatever else seems appropriate at the time.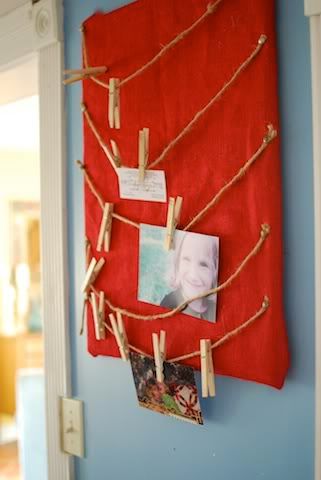 Apparently, I am a fan of the clothesline look!
How do you like to store and display favorite artwork and photos?