Kitchen Cabinet Turned Book Nook
Thank you all so much for the comments on the new bloggy makeover. Can you tell that I am rejuvenated by the new year? I've been organizing, decluttering, and making over. What better time of year to make something old new again? To make better use of something than before? To make use of something at all.
When we bought our kitchen cabinets on ebay what seems like a lifetime ago, they came new from a showroom. Which meant there were two versions. The short kind (36″?)and the tall kind (42″?). We have low ceilings so the tall kind did not work in our kitchen. But we got a whole bunch of them in the lot and just used the ones that fit. I cannot even begin to tell you the emotions that come flowing back when I think of that time. Our house was a disaster. Hubby was living here alone because it wasn't even fit for me (pregnant) and our 2 year old daughter. I remember hemming and hawing over the phone with hubby about if we should bid on this set of kitchen cabinets or not. We decided not to. $2500 we weren't ready to spend. Then something crazy happened. The high bidder backed out. The guy relisted and just needed to get rid of them for his client. $750 for the whole lot of them. The $3000 black granite countertop was lowered to a wowing $250 (I think. My memory is fuzzy. I thought $300 but then went back to an old post that makes me think it was $225. So, we'll call it $250.). We bought both. He delivered them for free. And so became our new kitchen that I love every single day of the week.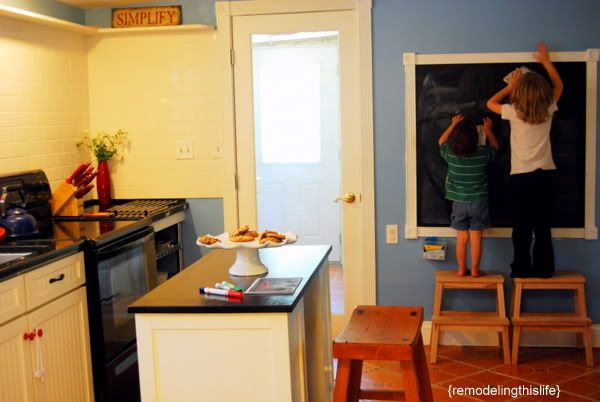 Sorry. Are you tired of seeing that photo? I can't help it. It might be my favorite house remodel, DIY project, simple living, family photo that I have. So you have to see it again.
I'm sorry, I got distracted. Was I saying something? Oh, that's right. I was telling you about a project I did with a leftover kitchen cabinet. This cabinet has been in our bathroom, it's been in our storage area of the house, it's been in my daughter's room. It is having an identity crisis of sorts and just hasn't known what to do with itself. Oh who I am I kidding? It's me having the crisis. I can't stop moving things around my house in a never ending quest to make things home around here. Rather than chalking it up to discontent, I contend it's the opposite. I am finding ways to be content with what I have. It's just I do it all the time. How can I use something I already have to get something that I need? And so begins the furniture moving and eye rolling from my hubby. It's better than going shopping and getting THAT eye roll! I know you know what I mean.
Would I get on with it? Okay.
Here goes. I know I built this up so much you are going to be disappointed.
Which bad photo would you like first? This one?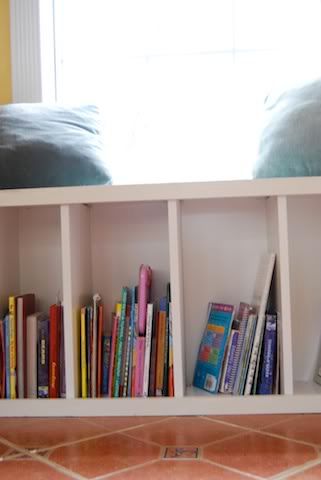 or this one?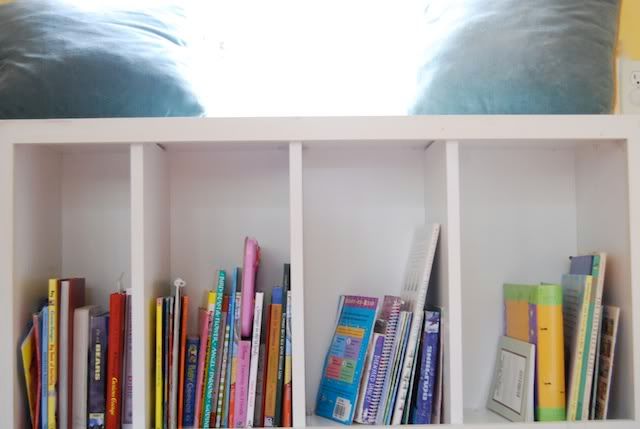 That's it folks. I took off the door, tipped it on it's side, filled it with books, threw two pillows on top and called it good. Yes, I could use leftover beaded board to put on the sides, and I probably will sometime. Yes, I could make a cushion and I probably will sometime. But for now, it's good. My daughter saw it and said "Oh, that is so CUTE!" and plopped her cute little self down on it with a book and read. Makes a frugal mama's heart happy.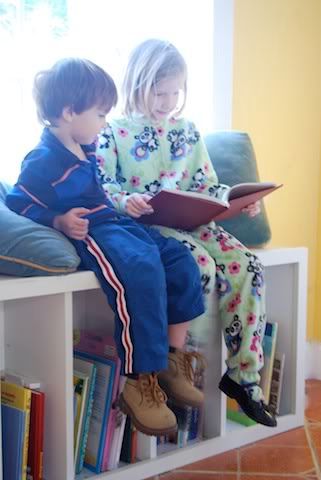 It may not be amazing, it may not have cost me a single pretty penny. But to have made a space that makes my kids happy and makes it feel more like home, it's priceless.