Slipping Away
I sit here, watching my kids play together – laughing, sharing and learning – and I wonder how it went so fast. Not just the summer, but all of it. I can think back to so many times that I thought the phase would never end – phases full of nights spent nursing instead of sleeping, phases of whining instead of using big kid words, phases of head butting, phases of peeing on the carpet – and now I sit here, in this moment and wonder how all of those moments, all of those phases that seemed endless at the time, slipped away.
How am I sitting here watching two kids play, share, laugh, interact, and enjoy each other?
How is it that 2 weeks from now I'll be attending open house for Kindergarten for one and preschool for the other?
I can't even imagine two mornings each week to myself. Yet here it is.
And instead of being happy, thinking of the time I can spend running, talking with friend uninterrupted, walking on the beach, whatever it may be – all I want to do is cry. Have a moment of newborn-ness again. Have a moment of nursing back. Have a moment of falling asleep in mama's arms back.

Less than two weeks ago, we were still at the cottage spending our early mornings swimming and our evenings spent having meals with extended family and watching the sun set over the lake.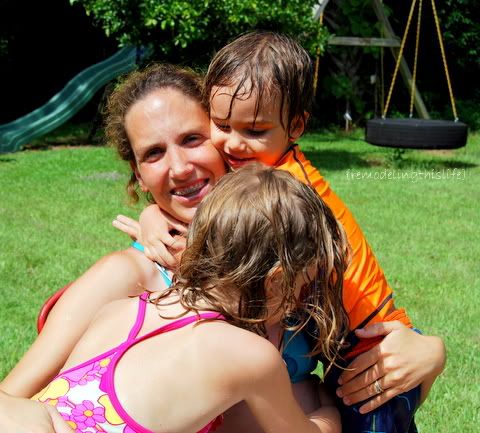 Evenings spent embracing the cold of upstate NY are replaced by accepting the heat of Florida. We've settled back in. We've headed back to the beach. We're doing the best we can to simply be and enjoy what we have.
It's not as easy as I thought it would be. I thought the challenge would be returning home from vacation and tidying and organizing and keeping the house in order, as usual. But that has been relatively easy. When friends call to spend time with us, I remember that soon enough there will be no weekly playdates for my daughter and so we go off to see friends before our time is up. When the kids want to spontaneously go outside to play in the sprinkler and slide down the slide, we go because soon they'll be restricted to school recess hours.
I don't know how it happened. How the ease and flexibility of this life so far has come to somewhat of an end. How I went from learning how to hold a tiny newborn to learning how to let go of a kindergartener and a preschooler all in the same day. I don't know how it went so fast. I just know that if I look back on that day in July 5 years ago that I became mom, it seems like it hasn't been long enough for this moment to come.  I know I have to continue to do the best I can to make the most of these moments. To make them feel like gold, even as they slip away.