Some Things Never Change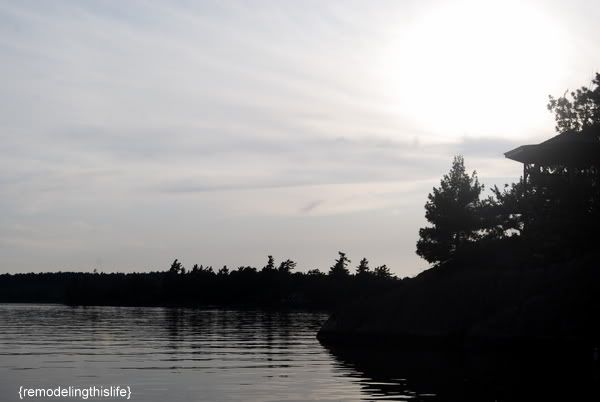 Yesterday ended with one of those perfect evenings, where everything was good, everyone was smiling, and I wanted it to last forever. It started with something small – my son smearing himself with spaghetti sauce at the dinner table instead of eating it. I bet you would've done what I did. I took him out of his seat and threw him in the lake.
And so began an evening of splashing and fun, just me and my kids, like no other evening since we arrived here a month ago. I helped my daughter practice swimming on her own. The kids jumped in over and over again. I swam way out, letting the light waves pass over me. The sky was brilliant from the setting sun.
As I swam, looking back at the dock where the kids played, I realized how everything is the same here. Everything that matters anyway. My kids are learning to swim off of the same dock that I learned to swim the day that I ran down and jumped in forgetting my arm floaties at the age of 4. They spend hours jumping and splashing in the same place that my own brother and I did. I can't help but sit and watch them and think of the endless hours spent trying to stand on our inflatable rafts, tipping each other over, dunking each other under, and tiring ourselves out during endless summer days.
I have all these memories, wonderful memories. When I see my kids making the same ones in the same place I know why this place is special. It has little to do with nice homes on the lake. It has to do with the people, the things we do, the way we spend our time. This is why we vacation here.
Now that I am an adult, I get to experience this place in two ways – the way of a grown up who has dishes to do, laundry to fold, and kids to keep alive by the water. But also as a kid again. I get to do cannonballs off the dock, splash and play with my kids, and experience those endless summer days from 25 years ago all over again.
This is a place where the view never changes, the people are the same, the days are the same. The sounds are the same. The same wooden screen door that I slammed shut my entire childhood is the same screen door that I spend my days telling my kids not to let slam. Don't tell them, but I like when it slams. That slamming screen door sounds like summer at the lake.
In this crazy fast paced world where it feels like there is a never ending demand for bigger, better and more, it is nice to know that I can always come to this place. A place where some things never change.