Getting Back to Basics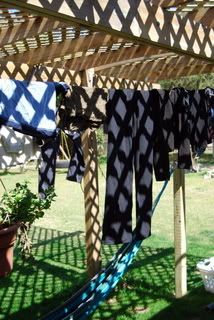 This post was originally written in May of last year. It is even more relevant now. I have chosen to reprint it today not only because of its relevance but because I am getting an awful lot of google searches for it. Things have certainly changed in the past 10 months, and much of what I wrote then has become everyday life for me. I would love to hear from you about this topic – if you, too have gotten back to basics, and how you are feeling about it. Although this was first published in 2008, I am changing the dates below so as to avoid confusion.
I spend a lot of time thinking about how I can be more frugal and simplify my life more. What these things come down to for me, is simply getting back to basics. Just because it's 2009, doesn't mean I can't strive for frugality and simplicity. In fact, maybe because it's 2009, I should be striving for it more. Everything seems to be going up except paychecks. It's time to settle down into doing things more simply and more cost-effectively around my home.
Just because it's 2009 doesn't mean I can't
Line-dry my clothes – After a couple years of my on and off love/hate relationship with my clothesline, I at least have the option now to line dry or not to line dry. Since the 92 degree days with lots of sunshine have set in, my clothes are summery fresh and dry within 15 minutes here.
Grow some of my own food – I haven't started yet. I have been dipping my toes into gardening slowly this season because I am, well, not all that great at keeping things alive. But I do have a goal of starting to grow some vegetables starting soon. It will be an experiment in, well, fun!
Make my own juice – I have lots o' fruit trees in my yard and I would really like to start fresh squeezing my own grapefruit and orange juice. Those juices don't come cheap at the store so why not take advantage of what I have growing in my own backyard.
Clean the natural way - It must've been part of the whole quick and convenient movement that brought about 1001 spray bottles for all different purposes to use around the house that are full of chemicals. It's just plain cheaper and healthier to use natural products and it makes me feel better about my family's health and safety too.
Consume less – I am a consumer and I often feel at the mercy of so many when it comes to finding and having what I need but I would like to decrease that reliance in whatever small ways I can. Walk more, drive less, cut out expensive convenience bundled items that keep me from making my own way and sustaining myself and my family simply.
Cook from scratch – I already do this quite a bit as most prepackaged stuff is not really to my taste. But I do have my weaknesses. I just want to make sure I am striving to provide my family with natural, healthy foods in the closest to their organic state as possible.
Throw away less - by repurposing and being creative, I'd like to start making more of the things we use and toss. Also, donate donate donate. I love freecycle, craigslist and goodwill when it comes to needing to rid the home of stuff we aren't using but can't bear to see taking up space in a landfill.
Save Money! – this is the most important one. All of these things above are done to keep more money with my family and less going out. I know that there is no simpler or more secure way to help my family through a rocky economy than to hold onto as much that I can so we can make it through rough times a little bit easier if those rough times should hit us. The way we've chosen to live – small, simple, frugal – not only keeps us grounded and secure, but will help us if times get tough. The less we are accustomed to spending and the fewer "necessities" we add to our life, the easier it will be to sustain ourselves and our lifestyle in the face of struggling economic times.
Remember, just because it's 2009 doesn't mean that life can't still be simple and basic. So much of what we've become used to as part of daily life aren't necessary expenditures and really giving a good hard look at what is important on an individual level will help to make small changes. Everyone has their own way and things that work for them that are easier than others. I still stink at cutting coupons but I love to challenge myself to save on electricity and gas. I can easily live without cable but don't take away my internet! I love cooking but ask me to sew clothes and you're in for it. We all just do what works for us.
What do you do to try to cut your costs more and get back to basics?
Leave a comment with your ideas! I'd love to hear them!