Kitchen Makeover
The kitchen? Is not done.
But I am tired of waiting. And I trust all of you not to sit and pinpoint all the little imperfections that are there still and I am going to show you anyway.
As a refresher, here is the kitchen when we bought the house. As my 4 year old likes to say, this is when the house was disgusting. It really was.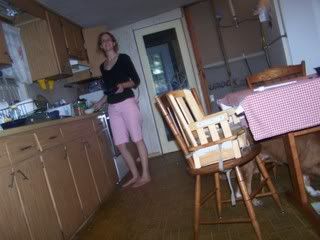 Here it is after we had put in all the new cabinets, countertop, floor, walls, etc…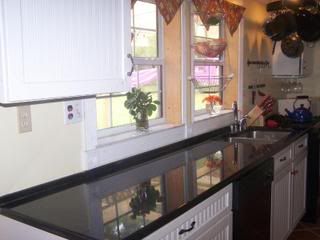 If you are interested, you can see more at House Remodel Photos page, Progress on Simplifying the Kitchen and Our $3000 Kitchen Makeover.
The past week, we have spent changing some cosmetic stuff. Hubby finished painting the walls Sherwin Williams Regale Blue and then put up the subway tile backsplash I have wanted for the past 2 years. He also added a countertop to the right of the stove, using black granite tiles to match the rest of the kitchen. We had a metal cart that I picked up at a yardsale last year for $10 that he built in under the countertop and now stores my pots and pans that I use the most, along with some of my baking stuff.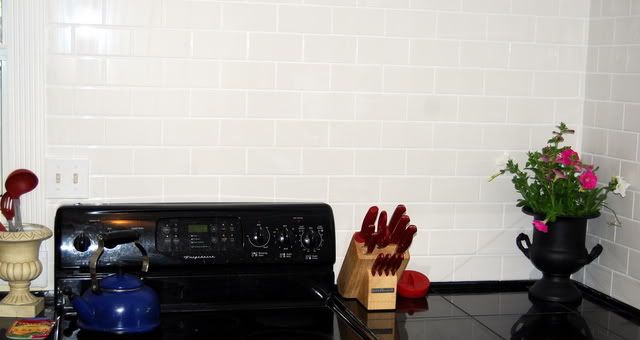 Here you can see those shiny black granite countertop tiles right next to my shiny black Frigidaire oven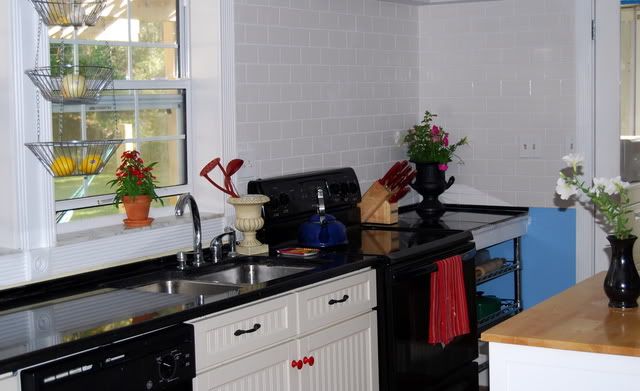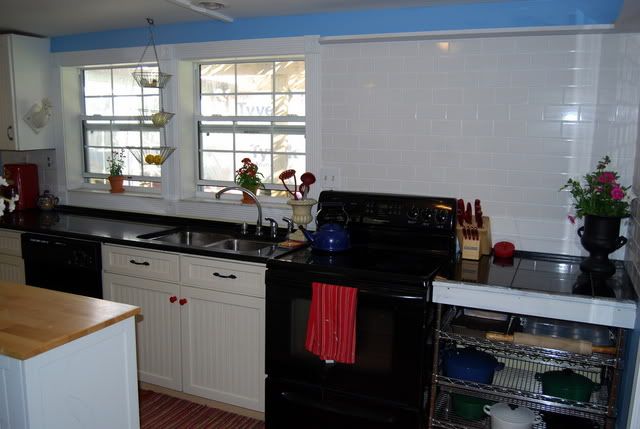 Hubby finished painting trim that he installed over two years ago – yes, really. Basically we are attempting to tie up all little loose ends in here – finishing it off so we can simply enjoy it. It's getting there!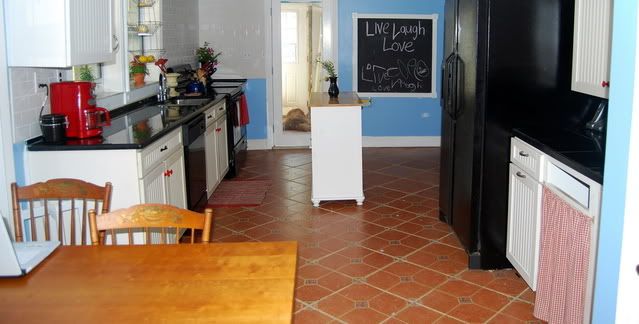 I added an island cabinet that I got on Craigslist a few months ago for $30 (it was along a wall, but I like it better as an island). I still need to find a stool to go there and I know our Goodwill has them often for $4.99 so I am waiting to find one there. I also want to get the Ikea Latt Table and Chairs to go in front of the chalkboard. Ikea doesn't ship it so I will either drive down there, find it on Craigslist or ebay and have that sometime in the near future.
There is still some touch up painting to do, hubby still has to add trim to the front of the new countertop and then he has to clean up all the paint spills on my floor. But it's coming along and I am really happy with it so far!
This post is part of Hooked on Fridays at Hooked on Houses. Head on over and see some other house inspiration that bloggers are hooked on.

Also, be sure to check out The Inspired Room's Beautiful Life series for more inspiration around the blogosphere