Don't Give Up What You Love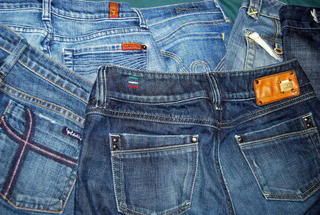 I have a confession to make. I am a girl who wears designer jeans. No, not just one pair. At the moment, I own 9 pairs.
When I was a girl in debt it was because I thought there was only one way to shop. With a credit card in my hand at a boutique.
Now, I am older and wiser and frugal-er. One pair of my jeans was $10.26 on ebay. Another pair was $17 on ebay. Two of them were $5 at Goodwill. I never used to consider alternative ways to indulge my love of fashion, but now I do.
My frugal life has taught me a lot of ways to save where I never considered it before. Frugal gets criticism because it often makes people feel like it means they have to live without things that they love. In a way, it does, because you can't have everything all the time. But you can compromise, set priorities and keep things (frivolous as they may be) in your life that make you happy. So I have a stash of designer jeans and love lattes. I don't have cable tv, car payments, and I regularly save for tomorrow.  For me, it's all about balance to find ways to live in and enjoy today while still being responsible for tomorrow. And wearing designer jeans while I do it.