Back on Track
Something happened to me slowly and I didn't notice it until I was forced to. I got sick over the weekend and while laying around moaning and grumbling about it, I also looked around me and realized that my house had become my worst nightmare. Clutter was gathering and it got to the point that I wasn't even noticing it anymore. Things had sat out of place so long, they stopped looking out of place. I did have to find some humor in that my toddler had placed canned goods throughout the living room. At least I noticed those were out of place.
At the time that I realized what was going on around me, I was incapable of fixing it. I just had to lay there staring at the messes. Perhaps a combination of not being able to and sheer horror, I wanted so badly to start getting back on track. Once I was feeling better, I found my motivation to slowly, little by little, pick away at what needed to be done.
It's amazing how easy it is to mess up a house without effort and how much effort it takes to fix it. I started by picking up stray toys. I cleared out outgrown clothes. I took things out of the house that were no longer working for us. Sometimes, although I have the best of intentions when something comes in, it just doesn't work right here. I have to let it go.
One tiny step at a time, I put things back together around here. I emptied cupboards and scrubbed them. I washed the inside of the refrigerator before I grocery shopped. I wiped down doors, windows, baseboards. I don't do all that well with focusing all my attention on one room at a time. So I moved, slowly, throughout the house. Working the tiny steps into our normal routine. While dinner cooked, I scrubbed out the microwave. While kids showered, I cleaned the bathroom. While folding and putting away laundry, I filled bags with clothing no longer worn. I moved furniture to make things more functional and managable.
Once the house began to look pretty again, it was amazing what it did for me. I know that there is no way to live an inspired and organized life if my surroundings aren't inspired or organized. I was taking care of myself about as well as I had been taking care of the house. It had been far too long since my last haircut. I wasn't taking care of me or putting my needs anywhere even near the list. My house was uninspired, cluttered and depressing. So too was I.
By taking a few tiny steps, nothing dramatic, but simply tackling it on a manageable level, I was able to get things back on track quite easily. Yesterday, amidst a very inspiring, fun, busy day, I went and got a haircut. I stopped making excuses and stopped waiting for the perfect time. I took both kids with me and let go of the dream of an afternoon at the salon alone. My son sat in a chair next to me singing to all of us and flirting with the ladies at the salon. My daughter got her haircut too, acting more grown up than I am prepared to admit she is. I felt rejuvenated and motivated and productive. All just by starting out picking up a few toys and ending with a haircut.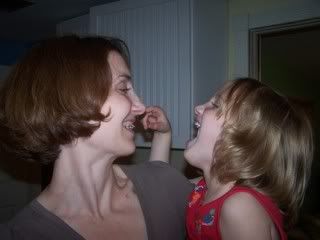 This post is part of The Inspired Room's a beautiful life series. Check it out for more inspiration around the blog world