20 Things I Love at Christmas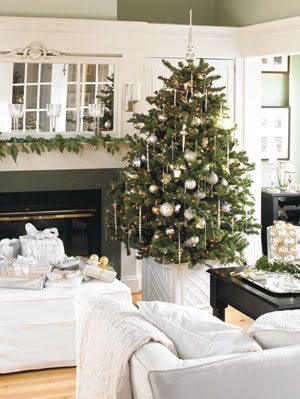 This season has been far different for me this year than any other year. Not only are we in Florida, where it just feels different, but it's just my small family of 4 celebrating this time of year since our parents and extended families are far-flung travelers. For the first time, I am on my own to make this season magical for me, hubby and the kids. In our own small ways, we're making it all our own, in our own unique ways and it's been really fun.
To celebrate and appreciate this time of year and all the inspiration it brings, I am making a list of 20 things that I love this time of year. Melissa at The Inspired Room is hosting a link-up on Friday, so feel free to make your own list and add it to her Mr. Linky then.
20 Things I Love at Christmas
Decorating the tree with my kids. There may not be any ornaments higher than 50 inches up the tree, but it's imperfectly beautiful and magical because it was done with love by them.

Baking. I love baking all year round, but even more so this time of year.

Dancing around to Christmas music. I love pulling out our Christmas CDs and playing the music loud. It makes our home cheerier and reminds me at the smallest moments that it's Christmastime.

Christmas lights. I love going out at night for walks or drives and looking at all the lights. And I love pulling up to my house all lit up.

Chilly mornings. There is something so cozy about curling up in sweats with a cup of coffee in the morning and enjoying the chill in the air instead of turning on the heat.

Watching Christmas Movies.

I love when Charlie Brown's Christmas or Frosty the Snowman comes on TV and I let my daughter stay up late so we can snuggle and watch together.

Giving. I love thinking of gifts to give those that I care about and the anticipation of giving those things.

Sparkle. I am a mostly traditional red and green girl this time of year, but I have enjoyed a little added sparkle this year, with some silver and gold and glitter thrown in.

Family traditions. There's nothing like the holiday season to bring out the wonderful and unique family traditions. And it's always wonderful when an new and unexpected tradition is formed.

Christmas Eve. I think I actually love Christmas Eve more than Christmas morning. Our traditions include driving around to look at lighhts after a church service and then coming home to watch It's A Wonderful Life as a family. We also open one gift each. For the kids it's a new set of Christmas jammies to snuggle up in for sleep that night and to open gifts in the next morning.

Snow. We may not get it here, but I love it and I miss it.

Hot Chocolate.

One thing that is a staple in our home this time of year is hot chocolate mix.

Christmas Cards. I often put it off but it's one thing I haven't chosen to go without doing. I love trying to get a photo and then sending off a card to our loved ones so they know we are thinking of them and loving them this time of year.

Running to the mailbox everyday.I love getting cards from our far-flung family and friends. Reading about and seeing photos of grwoing children and changing families is so wonderful.

Celebrating Imperfection.

There isn't much that we do in this house that is perfect. It's all done with love though and there is nothing like this season to make it more apparent that imperfection is okay and to be celebrated. It's about the feelings, the inspiration and the love behind what we do that matters more than the result.

Christmas morning. My favorite things about Christmas morning are digging through stockings and eating yummy gooey cinnamon buns. It's been a tradition since I was little and hope to continue it for a long time.

Lighting candles. I love candles any time of year, but they are that little bit more magical this season.

Bringing out the china. I know I should use it more often than once a year, but it does feel special to do it this time of year and I always look forward to it.

Bundling up. We don't get to do it here very much so when it does get chilly and we can put on our coats and play outside until our cheeks and noses are red, it's really wonderful.

The day after. When the chaos and excitement of Christmas is over and it's just our small family, home from school and work, together, with no looming plans, it's really magical.

To join in or visit other lists of things people are enjoying this season, visit Melissa's 20 Little Things to Treasure at Christmas post.
Photo credit: Country Home