My Life, Downsized
A reader, Denise, emailed me saying,
"Just found your website last week.  Love your posts.  Working to simplify our lives now – both in the area of finances as well as job/career choices.  You may have it listed in an earlier post, and if so, you can point me to that, but what things did you do initially to get started essentially downsizing from the chaos?  I'm ready to slow things down and just enjoy my kids – they're 7 and 4, and do those little projects like painting their rooms that have been on hold now for over two years!  Love your remodeling pics – very inspiring."
First of all, thank you, Denise, for your kind words and for your email asking about how to start on a path of simplifying and "downsizing from the chaos".  I started this blog a little under a year ago, which was actually after we were well under way on our new life path. So it hasn't all been documented as we went, but there is some backstory on how we got where we are and how this simpler life got started.
My About Page has a little background as well as these posts here:
Being Debt Free Means I Can Live For Today
I'd also like to share this post from Small Notebook, Trading Down to a Smaller Home. While not about me and my family, it is a very good example of what I think most families go through and the shift in attitude that comes with the choice to downsize your life.
Once upon a time, I lived here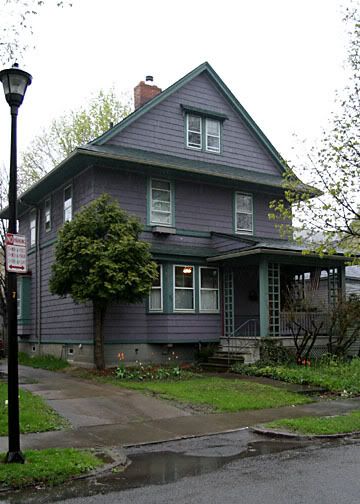 All 2700sf with a huge basement, a garage, and 9 closets and an attic was mine. I loved that house. Still do. But things needed to change if I wanted to have the life I was seeking – to stay at home with my daughter and for my stay at home dad husband to go back to work. We lived in Western, NY and hubby hated the long gray winters. Lots of things were just not right for us there. We put the house on the market and it sold in about 2 weeks. Our adventure began and a few months later, we moved to Florida where we bought our fixer upper. With no garage, no basement, and hardly a closet to be found.
I realized quite quickly that I was going to have to make some changes to how I felt about my stuff. Not everything could stay. I no longer had sprawling rooms to spread out in. There was now a bedroom for everyone instead of extra bedrooms for "stuff". And so, I started purging. Little by little, I took boxes and bags of things I had kept around mostly because I had the space to and not because those things were useful or even beautiful to me. They just were.
Through this transition, I began to see money differently. I saw myself selling or giving away so many things that I had spent money on, and often times A LOT of money on. But those things weren't always the wisest of purchases. I had hobbies I thought I would take up, I had clothes I bought just because. Now, because I saw how much I consumed and essentially wasted, I am much more considerate when I am going to buy something. How long will it last? How much do I love it? Where will it go? What will I do with it? Every purchase has to have a purpose now because I never want to go back to the days of sorting through things that have been shoved away into boxes simply because they could.
This house has not always been wonderful. You know, it has looked like this before.
More house transformation photos can be found on my House Remodel Photos page, plus posts about our Living Room Remodel, Kitchen Remodel, and my daughter's Princess Room Makeover.
It's been a long journey but this house and this life change has made me and my family think more about what we have. It has made us appreciate living a simple and small life. When you don't have a lot of space to work with, little things count more. I now find myself appreciating the simple beauty of a cozy room full of charm and character that is comfortable and organized. I want people to come here and have a comfortable place to sit and talk. I want my kids to have a place they can grow up calling home, a place that they were part of building and making what it is today.
The path that we all choose in an effort to simplify and downsize may look different from someone elses, but this is the path that is most authentic and right for us. Our goal was to make things easier, have more time as a family and to depend less on a paycheck to afford ourselves more time, energy and freedom. My hubby has a job that gets him home by 3 p.m. most days, which means he has a lot of time for his family. He doesn't make a lot of money and there is no denying it's not always easy, but when we think of the days and the times we have together, it has been the right choice for us today and one that has ultimately benefited us in many surprising ways. I doubt it will always be this way. Things will change, our children will grow up and enter school so our priorities and needs will change with that. But for today, it feels right and it works well for us.
The way we see it, we can either look around at what we don't have in terms of money, stuff, or a big house and be disappointed or feel deprived. Or we can see what we do have – a comfortable home for our family, time together, and an appreciation for all the things we used to miss when life was more fast-paced and seemingly flying by as we flailed to keep up with payments and bills and work schedules. I know none of us will look back and wish we'd spent more time at work but we will be glad for all the time we had to spend as a family because of the choices and sacrifices we are making now.