Little Girl's Room Makeover
My daughter is a princess in every sense of the word. She pretends she's a princess while wearing Disney Princess dresses and waving her magic wand. She loves pink.
When my hubby was remodeling our house and we were getting ready to move back in, all he concentrated on was getting things like, you know, walls and floors put in. So he did that and then painted my daughter's room white. We got her some pink princess bedding and a white vanity and a dresser and called it a day. At the time, she had to house all of her toys in her bedroom because we didn't yet have a playroom.
So here is how it looked then

It looked like that for 2 years, minus a little furniture rearranging from time to time to mix things up and the addition of a playroom meant the toys got to move out of there.
When the kids and I went away this summer, I left hubby a long honey-do list. One of the items on that list was to paint our daughter's bedroom. Her only request was, surprise! PINK!
So hubby did as asked from his princess and painted her room pink. He used oops paint from Home Depot, for a grand total of $5.
It sat with bare walls for a while after we got home and we have slowly been adding some flair to the walls. I put up a few window (and closet!) mistreatments and my daughter and I did a wall art project. I still have to add some photos to other walls and have some artwork from school to frame and hang, but I thought I would share what less than $20 did for her room.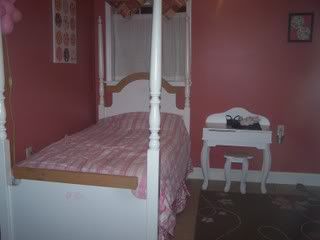 Paint – $5
Fabric – $3 (did 2 windows and the closet)
Wall art – $10