Simple Storage Solutions: In the Kitchen
This is part 1 in a series of posts on Simple Storage Solutions. Check back each day this week for storage solutions throughout the rest of the home. Or subscribe to my feed to make sure you don't miss it!

By moving into a smaller home than I lived in before, I have been forced to downsize the amount of stuff in my home and also be more creative with storing the things I choose to keep. The kitchen is an area that can become cluttered quite quickly, with pots and pans, utencils, gadgets, and dishes. Here are a few simple solutions for storing your items so they're easier to find, reach, and use when you're at work in the kitchen.
Maximize Wall Space

Hanging pot racks, magnetic bars for knives and hook bars are all inexpensive easy ways to make the most of your vertical space in the kitchen.
A hanging 3 tier basket can hold fruit and veggies to keep them from taking up valuable counter space in a bowl. Make a spice shelf to put above your stove or other convenient wall space to keep them organized and out of precious cupboard space.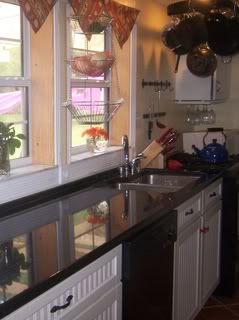 Use height to your advantage
One of the best tricks for making better use of small spaces is to go up with your organization. From floor to ceiling, you can put functionality to work. In my kitchen, I had a bare wall and not enough counter space. I wanted to free up one side of my kitchen counter so I put in a mobile cabinet that I scooped up off of Craigslist, hubby installed two extra upper cabinets we had and I made what we're now using as a breakfast bar. We added functionality and maximized space in the kitchen by filling the wall from floor to ceiling with useful storage space.
Before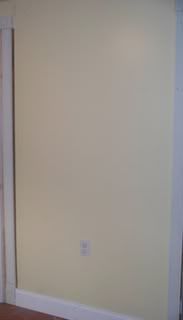 After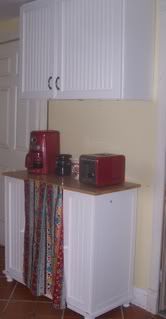 To maximize this space, I could hang hooks below the cabinets for some of my favorite coffee mugs which would free up even more cabinet space. But I'm not. I could also store my toaster in the lower cabinet and just bring it out when I am using it. But I like it. So it stays. I will have to do something on the bare wall but it will likely be something more decorative than useful like hammered copper panels for visual interest.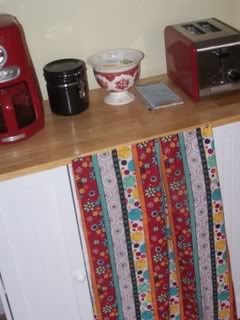 Maximize drawer and cabinet space
By using pullout drawers in your most used cabinets, you can make getting to your items easier and make better use of the space in the back of cabinets.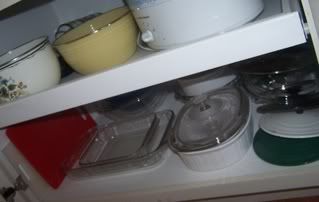 This space could be better organized by installing lid racks on the inside of cabinet doors and getting the jumble of lids out of the way.
Also, use the go up philosophy inside cabinets. You can do this by adding tiers to your shelving or simply adjusting shelf heights to make sure you're not losing space by having them too far apart. A lazy susan can help you take advantage of vertical space within a corner cabinet as well.
These are a few simple storage solutions for around the kitchen. I would love to hear what some of your tricks are for maximizing space and increasing productivity around the kitchen. Feel free to share in the comments! And be sure to come back tomorrow for another installment of this series as we make our way around the house solving storage issues.