A Wedding Quilt
My brother got married in January in a courthouse with a friend as their witness. No big ceremony or party to celebrate. No rings, no dress for her and no tux for him. Just two people as they are, promising to spend their lives together.
When I heard about the wedding, just as with any wedding, I started to think of ideas for a gift. Nothing seemed quite right that I could think of.
My mom and a few of my aunts and I all decided to make them a quilt instead of bombarding them with boxes of kitchen gadgets and breakable china that they don't want.
When my brother and his wife visited in February, my mom took them to a quilt shop to choose fabric. They had just been to my house and loved all the bright bold colors we used so they took that as inspiration and chose a bunch of bold whimsical fabrics.
My mom sent the fabric to the other five of us and we all got to work making blocks to be put together into a wedding quilt.
I had not sewn in a very long time. Like 20 years. I was a little rusty. I did all of my sewing by hand. I had a few glitches in the beginning and had to redo some of my first block but I had the hang of it by the second block. Then, I found out that a cousin of mine who was supposed to have sewn a block didn't do it, so I decided to do yet another one. It was fun challenging myself to something "new" and being part of a unique, sentimental masterpiece.
And here are the three blocks I did. Staying true to myself, they're not ironed.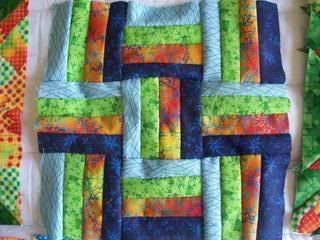 This house block is full of imperfections and mistakes but when I told my brother I was going to redo it, he got mad and said to leave it just how it is, that is how he wants it.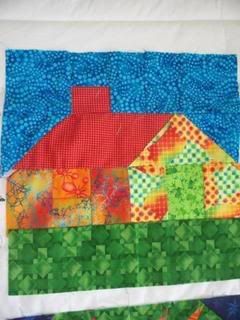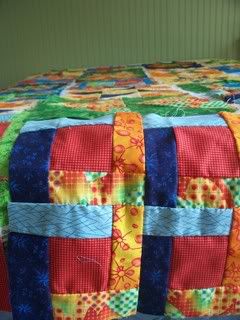 My mom and one of my aunts are doing all the putting together and quilting of the different blocks this week. Here are the blocks all laid out a few days ago.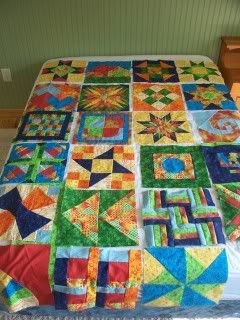 This was a really fun way to do something for them without any of us spending a lot of money, they didn't get a bunch of gifts they don't need, and instead have a handmade with love quilt to honor their marriage.