Frugal Decorating: Use What You Have
I love for my home to be pretty, feel cozy, and have a welcoming and lived-in feel. I care about how it looks and strive to make it beautiful. I don't have a lot of money to do it though, so I find myself having to be creative. I can't just drop hundreds of dollars on window treatments, new furniture, and decor.  Here are a few ideas from around my house to help make a house a home, make home feel personal and comfortable, vibrant and inviting without spending a lot of money.
Window Mistreatments
I learned this one from The Nester. I wasn't a believer until I actually tried it and discovered it really was as easy as it sounded and didn't just look pretty in her photos but was actually functional and pretty in real life. Shocker. Seriously, a lot of stuff I see in pictures I think that people make look and sound easy but they aren't. This is.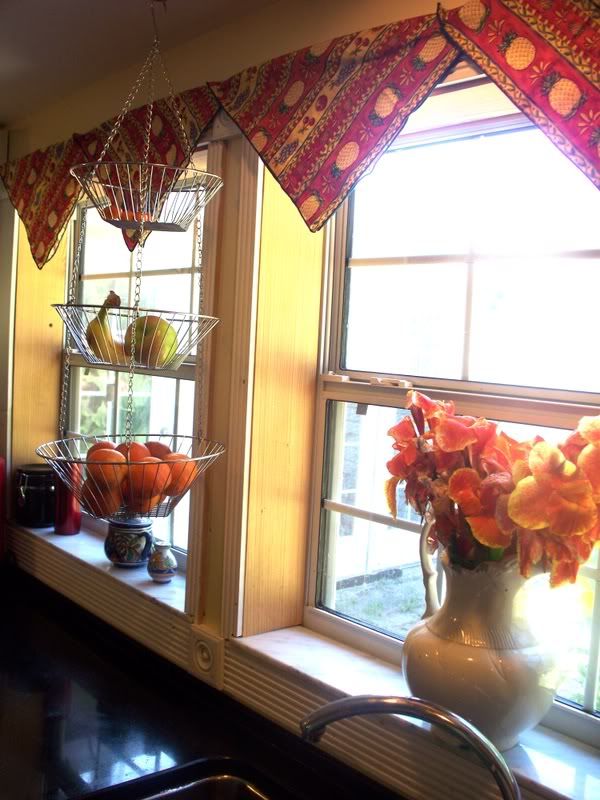 See that? All I did was take napkins, fold them into triangles and hammered them into the wall with upholstery tacks. Instant pop of color!
Flowers
Seriously, I hope you have flowers in your yard. If you don't, you're missing out. But, if you don't, you can hop the fence and take some from your neighbor, just don't tell them I sent you. Fresh cut flowers are a great way to not spend money and add decor and color to your home, a touch of the personal and natural. In the photo above of my lovely kitchen window are some canna lilies that my daughter and I got out of the yard. Free and fabulous!
Furniture Relocation and Makeovers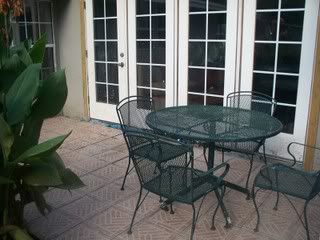 I bought this patio set at a garage sale for $20. I don't mind the green, but I kind of have this love affair with the color red. So I did that. Got some spray paint and added some pop to the dull set and ensured their uniqueness all at once. I'm like that. I like seeing other people's fresh ideas but them putting a twist on it to make it all my own. So no black or forest green paint was going over this – nope, for me it was all about the red.
And I love it!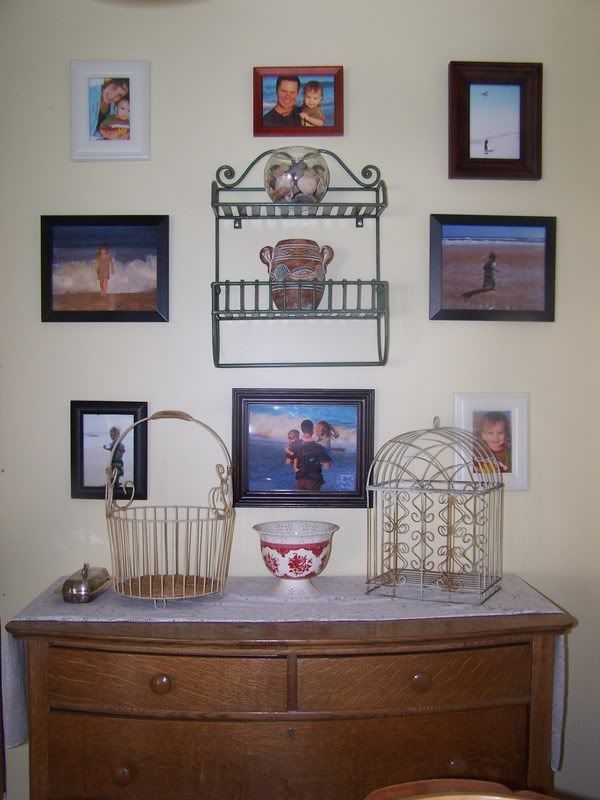 In my dining room, I was lacking a buffet. I wanted a buffet. I didn't like how everything looked and lacked flow without one. Plus, I needed storage. So, I dragged a dresser out of one of the bedrooms and hey, look at that! A buffet! I keep my table linens in it along with my candle collection. It adds balance to the room and makes good use of the space.
The most fun way to decorate for me is to move stuff around. Use things differently, switch things up. it costs nothing and it adds change without having to commit myself. I'm married. Isn't that enough commitment for one lifetime? Don't ask me to commit to my decorating.