Totally Worth It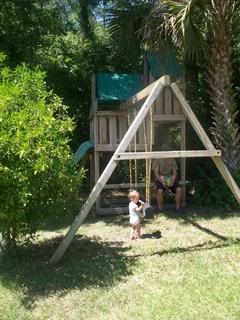 On Saturday morning, hubby and I did something that I have balked at for a while now, hesitant to have part of my family's life. We bought a playground for the backyard. My daughter has been begging for a tire swing for a while now and it's been taking hubby a very long time because he's just had other things he's been working on and whatever. Hubby has kept his eye on Craigslist for a playground, but even used, they were all pretty pricey. I didn't want to drop nearly $2K on something that would make my yard look like a park instead of a private residence. I just wasn't sold on the whole idea. I can just take my kids to the playground and I DO take my kids to the playground A LOT.
Saturday morning hubby and my daughter were up early so she sat on his lap at the computer and they looked at Craigslist. And found one. A good price. Not ginormous and gaudy like I was afraid of. Just perfect. And they formulated their plan. Hubby took both kids to the beach early that morning so I could sleep in. I woke up and drank coffee in peace on my new patio. I enjoyed peace and quiet and finished one of my sewing projects. I was really relaxed and full of happiness when hubby and the kids came home from the beach and they tossed the idea at me of getting this playground.
So I said yes.
While hubby drove an hour to meet my dad where it was located to pick it up and then an hour home to set it up – through a blowout tire on the trailer carrying the playground on 95, I waiting patiently in the front yard for the truck to pull up with the "surprise". They set it up quickly and before the last bolts were in place, the kids were climbing on it and in little kid nirvana.
My daughter has never said "thank you" so many times or "I love it!" so many times. She couldn't be pulled off of it on Saturday and there were instances of whining like "but I will miss my playground and will dream about my playground" and then there was "My tummy hurts! I think it will feel better if I go play on my playground!" Creative, that one is. Yesterday, both kids had to be carried inside to take naps because they were both unstoppable and playing on it under the influence of tired. It would be an understatement to say it's been a hit.
And so, I say, it was worth it. I eat my words. A playground in the yard is fun. The playground in our yard is perfect. Not to mention now I don't have to pay for gas to the playground numerous times per week anymore. And I can wear my jammies while they play