Home Remodel Costs Part 1 – Our $3000 Kitchen Makeover
Oh, fun! I get to share photos and frugality! My favorite things! I have decided to do a however many rooms my house has in it part series on our home remodel costs. Today, I share the kitchen, everything we did to it and how much it cost us.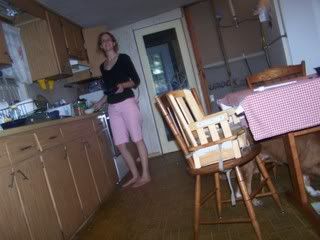 To begin, I have start with the ugly…me and the kitchen are ugly in this photo!! Look at those cabinets and yellow laminate countertop and pink shorts! Gah!
Oh no! Wait! that wasn't as ugly as it gets!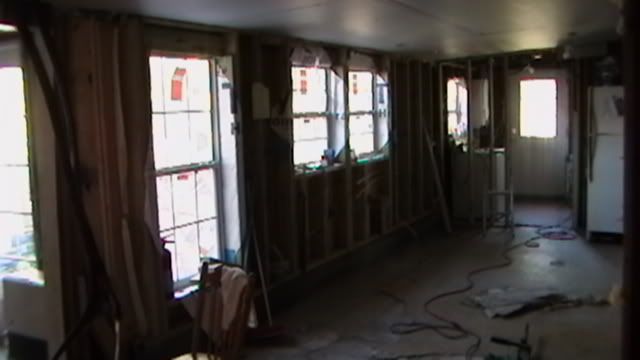 Let there be light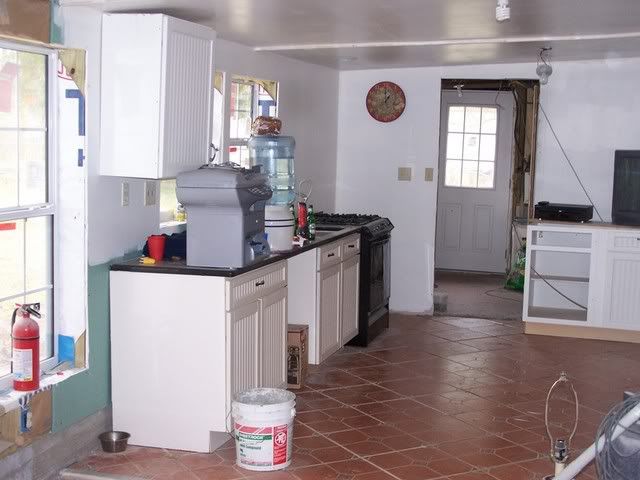 Then we'll move on to the a little bit improved but not all that great…yes that is a photocopier on my counter! Don't ask me why!! Still no dishwasher or wall paint but better floors, cabinets and countertop and a new stove!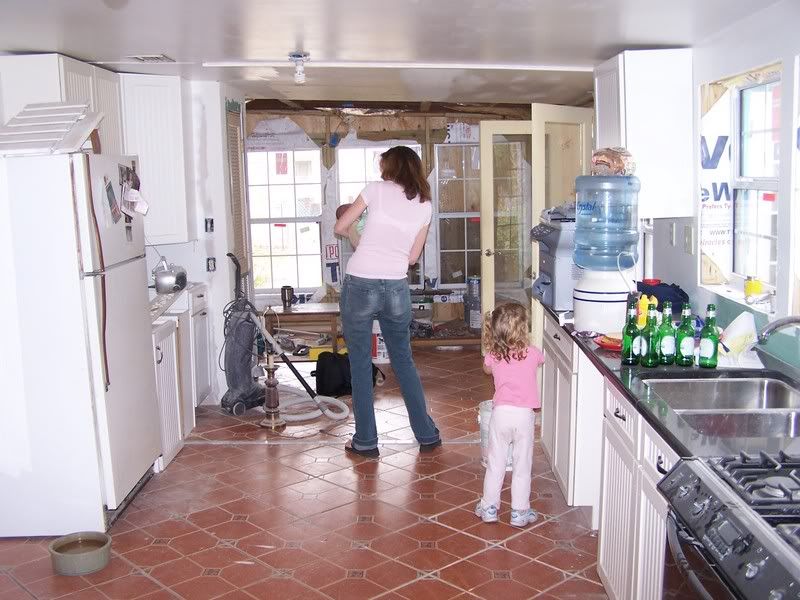 Here's another angle- don't I have a nice tushy?
Look at all those beer bottles…no wonder my walls are crooked!
Okay, so here are the after photos and then I'll breakdown the costs
Kitchen Remodel Costs – This is 100% DIY – so no contractor costs!

Tile Floor – $250 – Bought retail at Home Depot for $1.49/sf
Drywall for walls and ceiling plus insulation – $225 – Retail At Home Depot
Paint - $20 – we spent $50 on 2 gallons of the color that is in our living room. When that room was done, hubs mixed white in with it to make a lighter shade for the kitchen. On my list of things to do before I die is to paint my kitchen a totally bold and fabulous new color but for now, this is it.
Appliances – $500 – new stove $350 on ebay, new fridge $150 on ebay and dishwasher – free – there are new constructions that were being built a few streets down from us when we were doing the kitchen and someone took out the builder dishwasher and replaced it with their own so we got it from them. That's a nice way of saying we got a new dishwasher by dumpster diving.
Cabinets – $750 – we bought a complete set of cabinets on ebay for $750 new from a showroom but didn't use all of them – so this is really more like $600 – since we used the spare cabinets in other rooms throughout the house and those will come into the costs for those rooms.
Countertop/Sink/faucet – $285 – Black granite slab bought with the cabinets on ebay. The other side of the kitchen has a $60 black granite tile countertop that hubby installed after buying the tile retail at HD for $5/sf.
Garbage disposal – $75 new at HD.
Electrical and plumbing - $125
Windows - $150 – hubby bought all the windows for the house on a closeout clearance sale at HD for $800 – and we have a LOT of windows – it was quite a deal!
Trim – $250
Marble Window Sills - $25
Doors – $75 – The doors were another amazingly frugal coup from Ebay – we got 6 for $24!
then we bought a few more at a bit higher prices, like $10/door. And 4 of the glass panel ones we got for about $60/door. I figure for the doors around the kitchen, about $75 goes to this room.
Light Fixtures – $60 – retail at HD.
Total Cost – $2790 – I'm rounding to $3000 for miscellaneous that I am probably forgetting. Not too shabby though!! And I think it's pretty